Located on historic Route 6 in Wellsboro, Pennsylvania, Highland Chocolates is a non-profit chocolate factory and retail store that provides vocational training and employment for adults with disabilities.
Famous for our pretzel bark, we also offer hundreds of different molded chocolates, sweet snack mixes, fresh fudge, and handcrafted chocolate gifts for any occasion.
Our Factory Store is now closed to the public as we are undergoing a renovation/ update of our Factory facility. We will be relocating to a temporary facility to make our confections, that will not be open to the public. We are hoping to open our NEW Factory (with TOURS!) and Factory Store to the public in Spring 2023. Please watch this website and social media for updates.
Please remember that our Downtown Store location at 82 Main Street will remain open during our renovation.
Corporate, Wholesale and Fundraising Orders will still be available for pickup. Please call the factory 570-724-9334 for more information on these orders.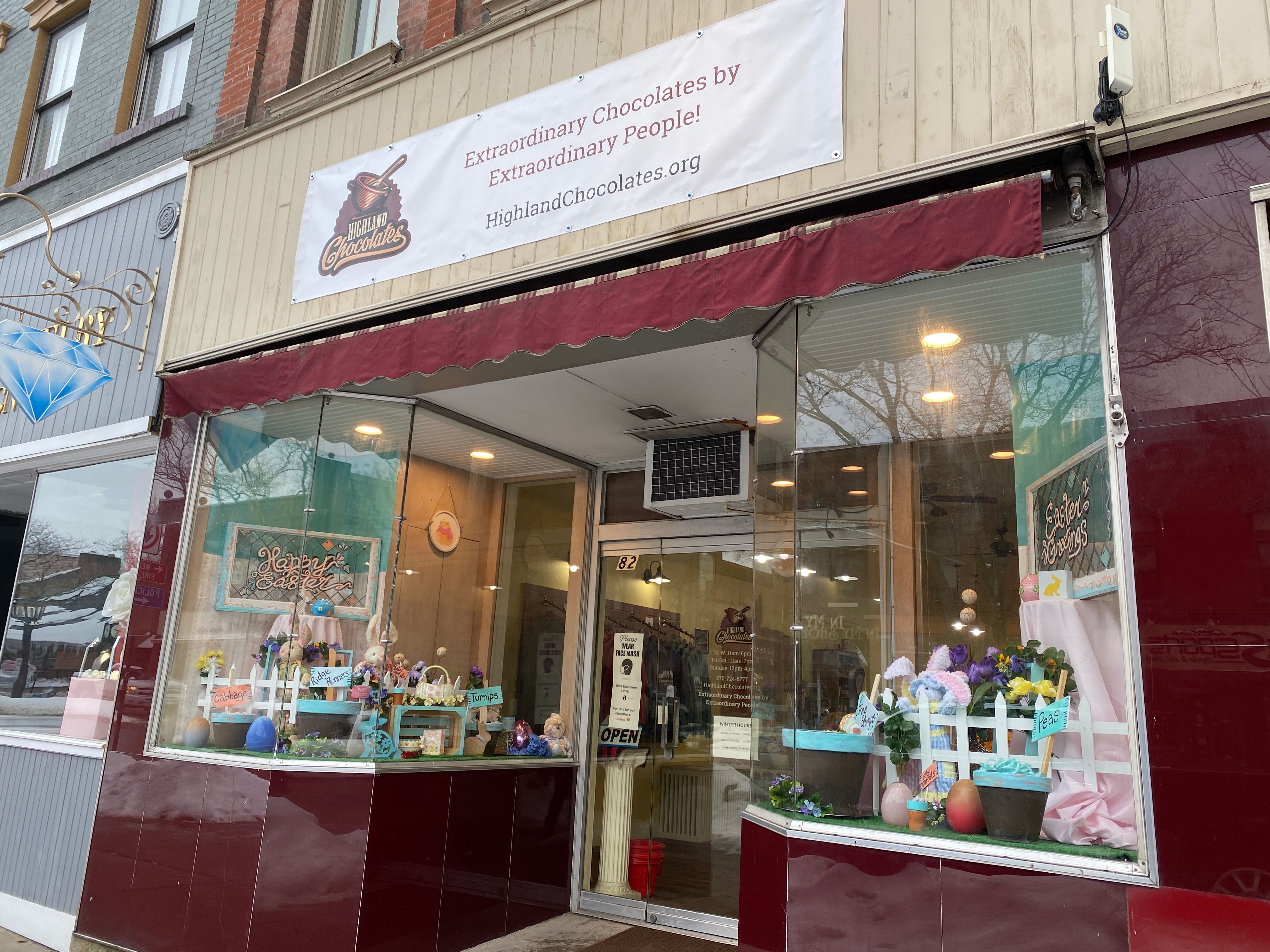 Highland Chocolates Downtown
---
82 Main St.
Wellsboro, PA 16901
570-724-6777
Summer Hours:
Monday - Thursday: 10 - 6
Friday & Saturday: 11 AM - 7 PM

Sunday: Closed
Renovation update #1:
It's been one month since we closed our Factory to the public.
We have been continuing to make our confections as we packed things up in the Factory through last week.
This week, the move begins and we will begin setting up for operations in our temporary facility, which will not be open to the public.

If you are interested in a fundraiser, have a wholesale or corporate order account with us, we will work with you to have your items available for pickup at our Downtown Store on 82 Main Street. Please remember that we also do custom orders for weddings, baby showers, and more! Give us a call today!

Our Downtown Store will remain open and fully stocked during this time. Please continue to support this location. We have delicious confections and gift items for every celebration!

Starting July 5th, we will go back to work making your favorite confections.

The renovation project at the Factory will begin in July. So I will be posting monthly updates at first, and updates more frequently as we approach our grand re-opening!

Please continue spreading the word that we are not closing- we are still making yummy chocolates and selling them at our Downtown Store location.

Looking forward to bigger and better things for Highland Chocolates in 2023!
"Extraordinary Chocolates by Extraordinary People!"
© 2022 Highland Chocolates. All Rights Reserved.
Designed By ElectronMonkey LLC