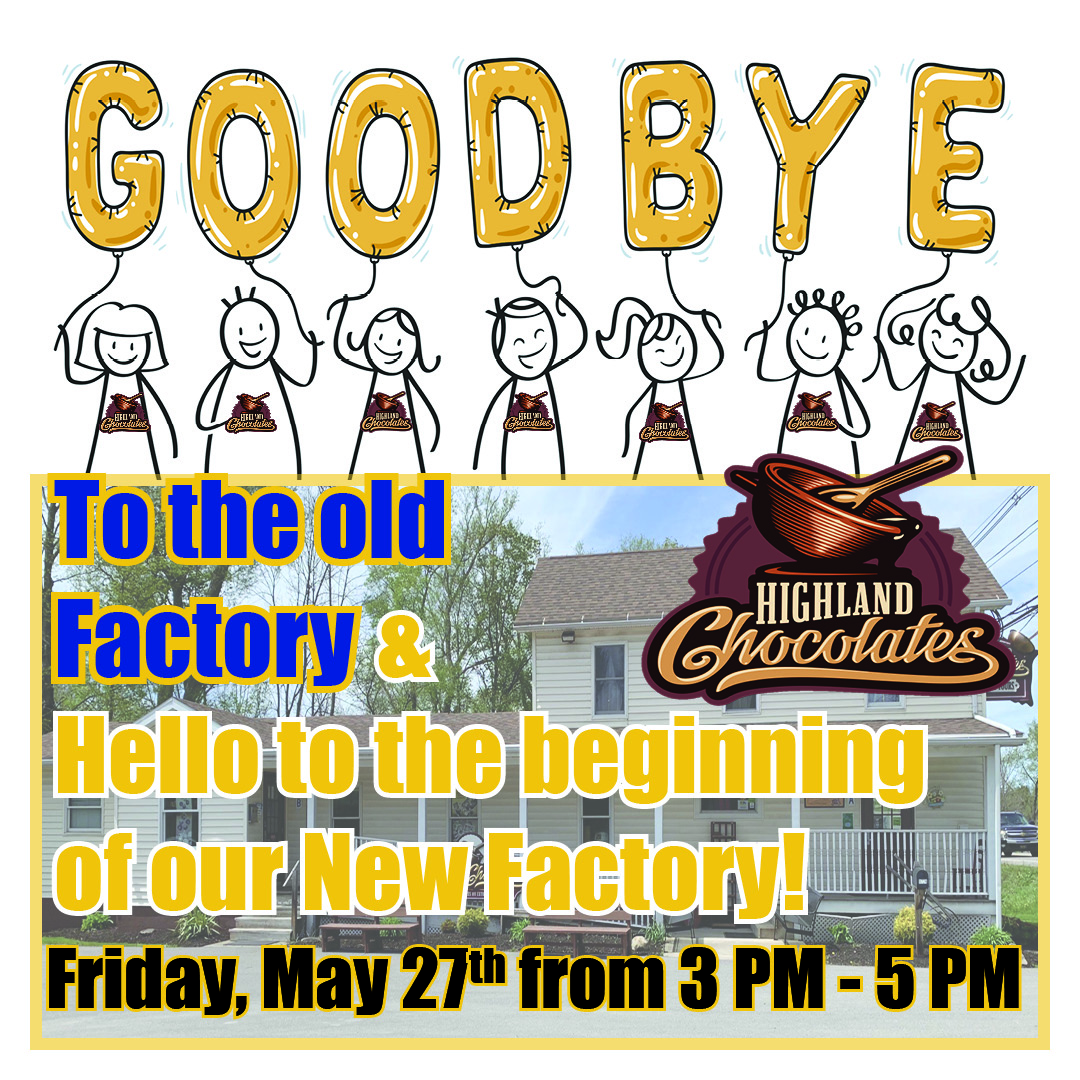 Friday, May 27 - From 3 PM - 5 PM
Come say Farewell to the old- as we begin the process of renovating our Highland Chocolates Factory at 11724 Route 6, Wellsboro PA.
Live Broadcast from Bigfoot Country and visit by Bigfoot!
Fudge Flash Sale!
Special Limited Edition Truffles inspired by Highland Chocolates original recipe (all the way from Scotland!) This recipe is not available at either Highland Chocolates at any other time!
Please come say "Goodbye" but not farewell, as in Spring 2023 we will be back in our bigger and better Factory location!
Remember, our Downtown Store will remain open throughout our renovation project!
Please continue to support the Sweetest Spots in Tioga County!

Located on historic Route 6 in Wellsboro, Pennsylvania, Highland Chocolates is a non-profit chocolate factory and retail store that provides vocational training and employment for adults with disabilities.
Famous for our pretzel bark, we also offer hundreds of different molded chocolates, sweet snack mixes, fresh fudge, and handcrafted chocolate gifts for any occasion.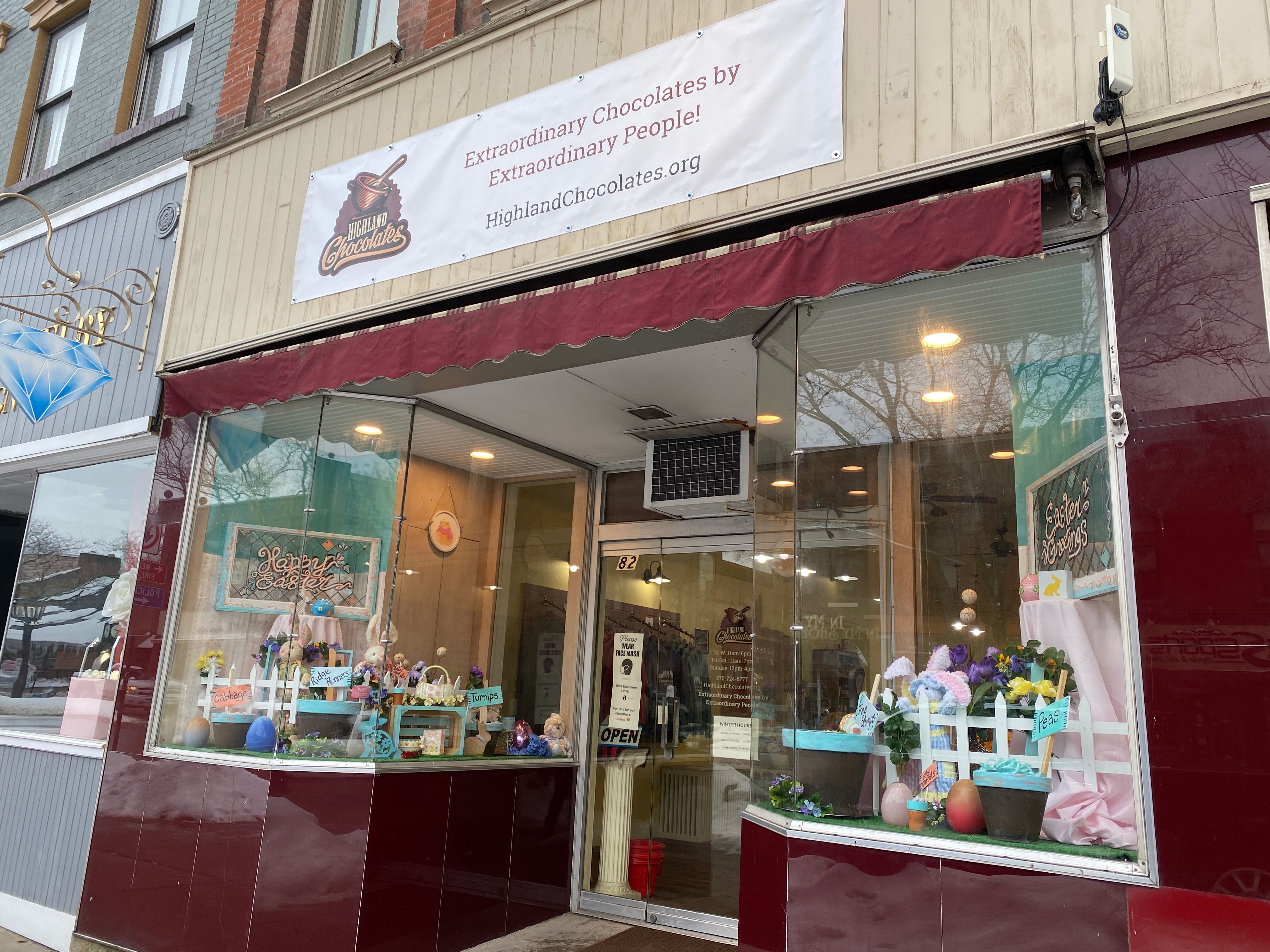 Highland Chocolates Downtown
---
82 Main St.
Wellsboro, PA 16901
570-724-6777
Summer Hours:
Monday - Thursday: 10 - 6
Friday & Saturday: 11 AM - 7 PM

Sunday: Closed
Due to COVID-19, our factory tours have been temporarily suspended but our Factory Store remains open:
Monday - Friday: 10 AM - 4 PM
Saturday & Sunday: Closed
Check back often for updates on tours. We apologize for any inconvenience.
Watch your favorite chocolate treats being made right in front of your eyes! Guests are invited to tour Highland Chocolates factory to meet our extraordinary staff and learn about the process of making our handcrafted and hand-packaged premium chocolate treats from start to finish.
- Tours are available year-round on weekdays from 9:30am-2:15pm and on select Saturdays from mid-June until the end of October.
- Tours are wheelchair accessible.
- Tours are free and last approximately 25 minutes and end in our retail shop where guests can choose from a huge variety of chocolates and sweet snacks to take home!
- Reservations and a donation are recommended for motor coach tours and for groups of 12 or more. We have a large parking lot to easily accommodate motor coaches.
- Tour operators – ask us about our package tours which include a "goodie bag" of our best selling items!
Fundraising with Highland Chocolates
Raise funds for your organization, group, or school with Highland Chocolates - 'Extraordinary Chocolates made by Extraordinary People!' Give us a call today to set up your next "Extraordinary" fundraiser! 1-800-371-1082
"Extraordinary Chocolates by Extraordinary People!"
© 2022 Highland Chocolates. All Rights Reserved.
Designed By ElectronMonkey LLC