"Extraordinary Chocolates by Extraordinary People"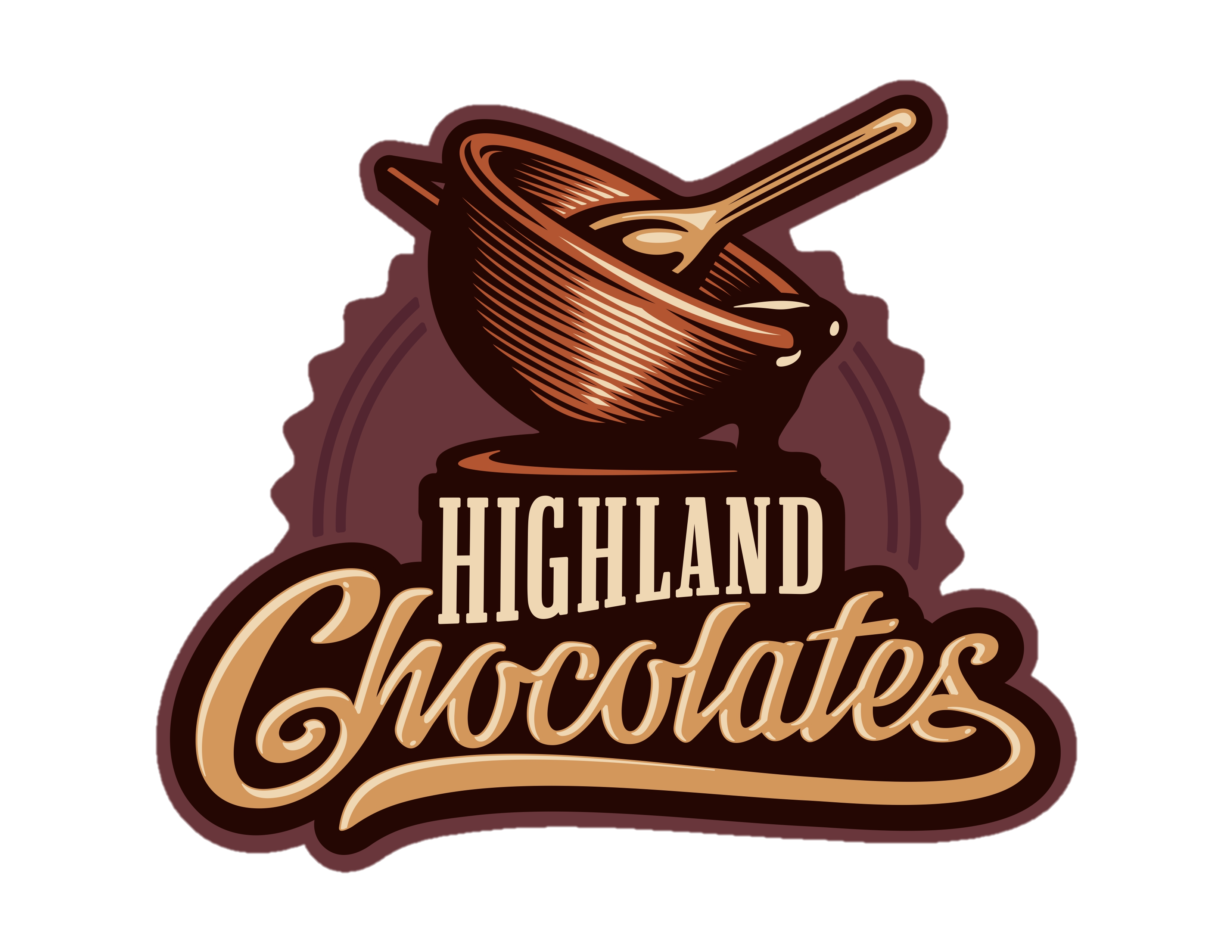 Welcome to Highland Chocolates!
Located on historic Route 6 in Wellsboro, Pennsylvania, Highland Chocolates is a non-profit chocolate factory and retail store that provides vocational training and employment for adults with disabilities.
Famous for our pretzel bark, we also offer hundreds of different molded chocolates, sweet snack mixes, fresh fudge, and handcrafted chocolate gifts for any occasion.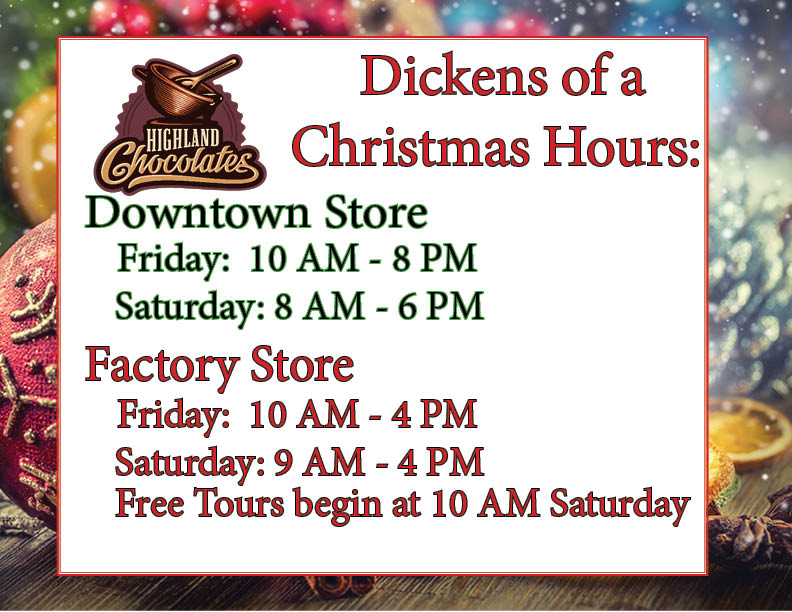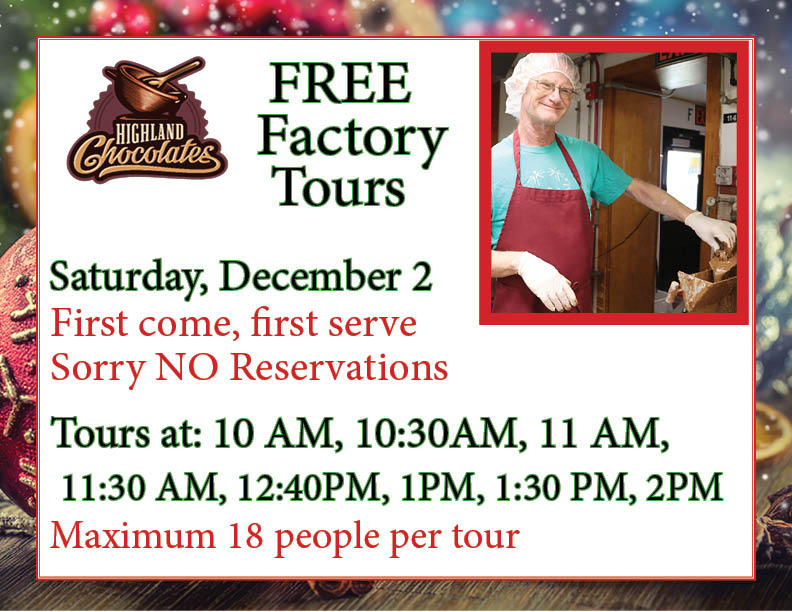 Looking to give Santa a hand this holiday season and ship an order from Highland Chocolates?
Please know that the last day that we will accept any orders for shipping will be Monday, December 11. And the last day to place a seasonal order for pickup (at either store location) will be Friday, December 15.


Due to our LARGE amount of orders this year, we are not turning on our website until we can catch up a little bit. (Don't worry, our 2 Retail Locations are fully stocked of delicious treats and gifts!)
If you wish to place an order for shipping, please email Highlandchocolates@partnerspip.com and someone will get in touch with you as soon as we possibly can. (Our elves are very busy this time of year.)
Also, the store staff cannot tell you what we can or can't do right now, so your best option is email - or, please call the factory and choose the Production Manager from the options.
We thank you for your support this Christmas season and throughout the entire year!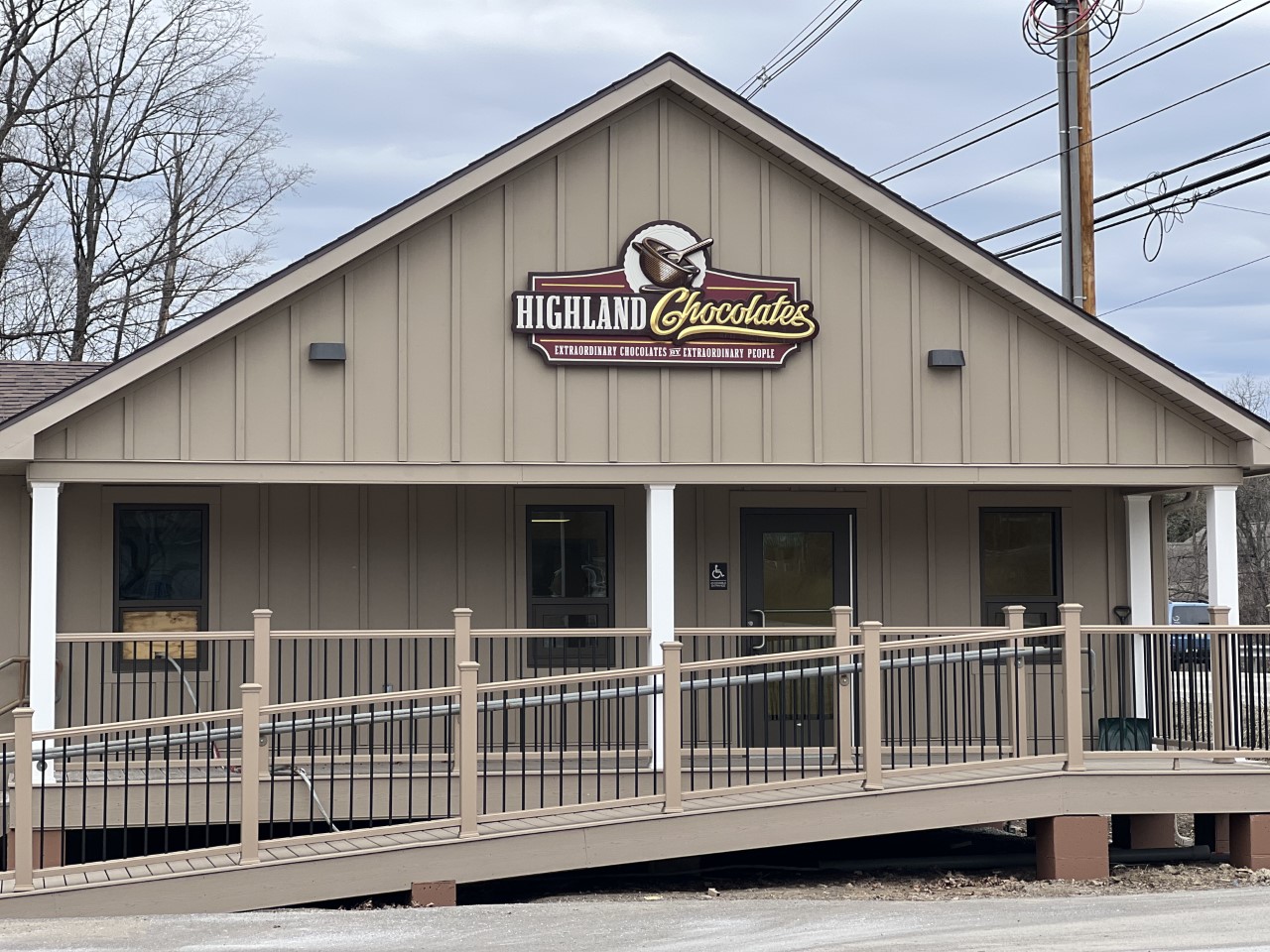 Factory Store Hours
---
11724 Route 6
Wellsboro, PA 16901
(570)-724-9334

Monday - Friday: 10 AM - 4 PM
Saturday - Sunday: Closed
Tours on Wednesdays: Free and Open to the Public - No reservations available (First come, first serve) at 10 AM, 11 AM, 1 PM and 2 PM Wednesdays

(Limit 15 people per tour - up to 2 tours per hour) See additional tour information below

Interested in a large group tour? please email Highlandchocolates@partnerspip.com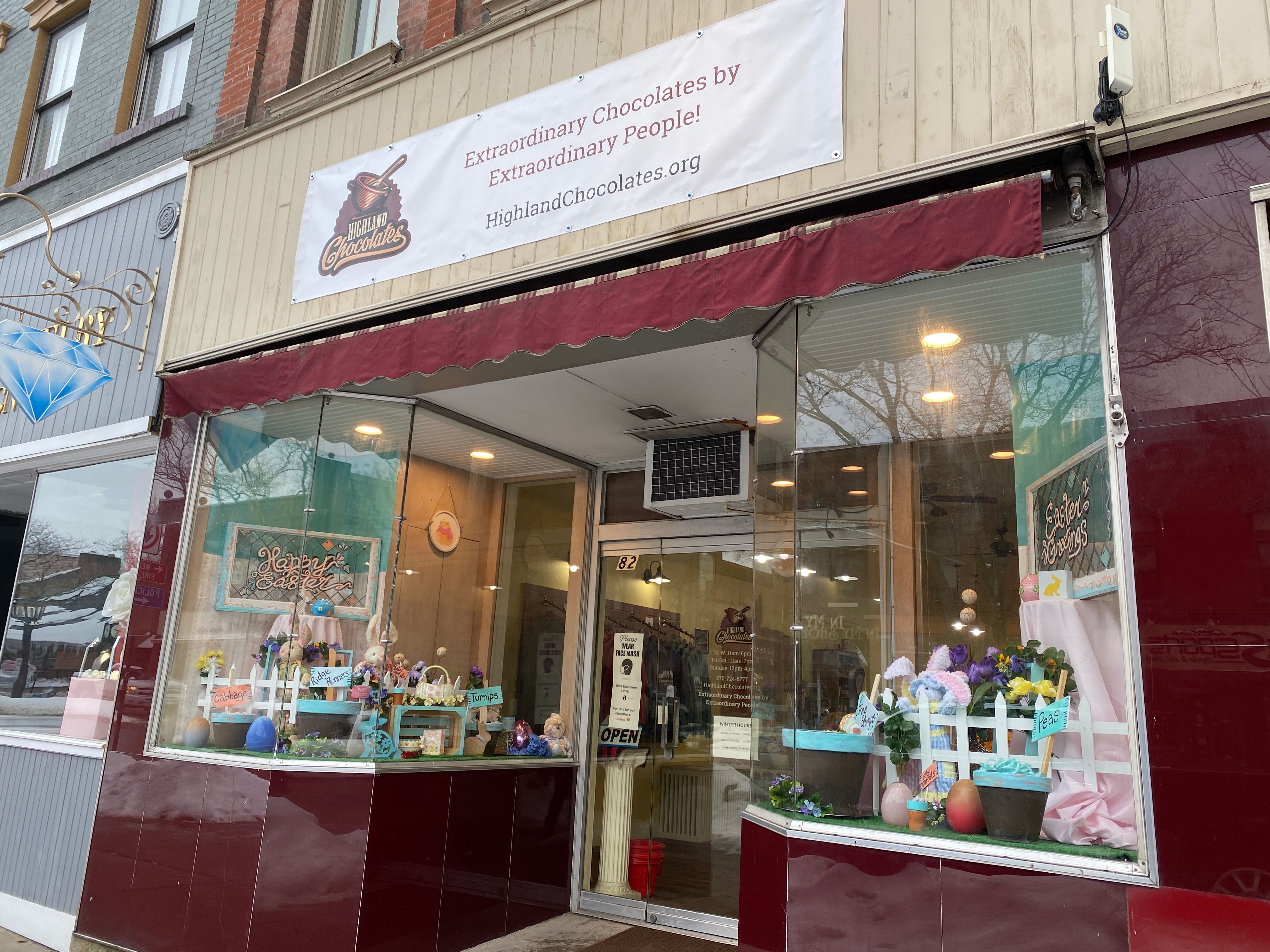 Downtown Store
82 Main Street Hours
82 Main St.
Wellsboro, PA 16901
(570)-724-6777
Tuesday - Thursday: 10 - 5
Friday & Saturday: 10 AM - 6 PM
Sunday & Monday: Closed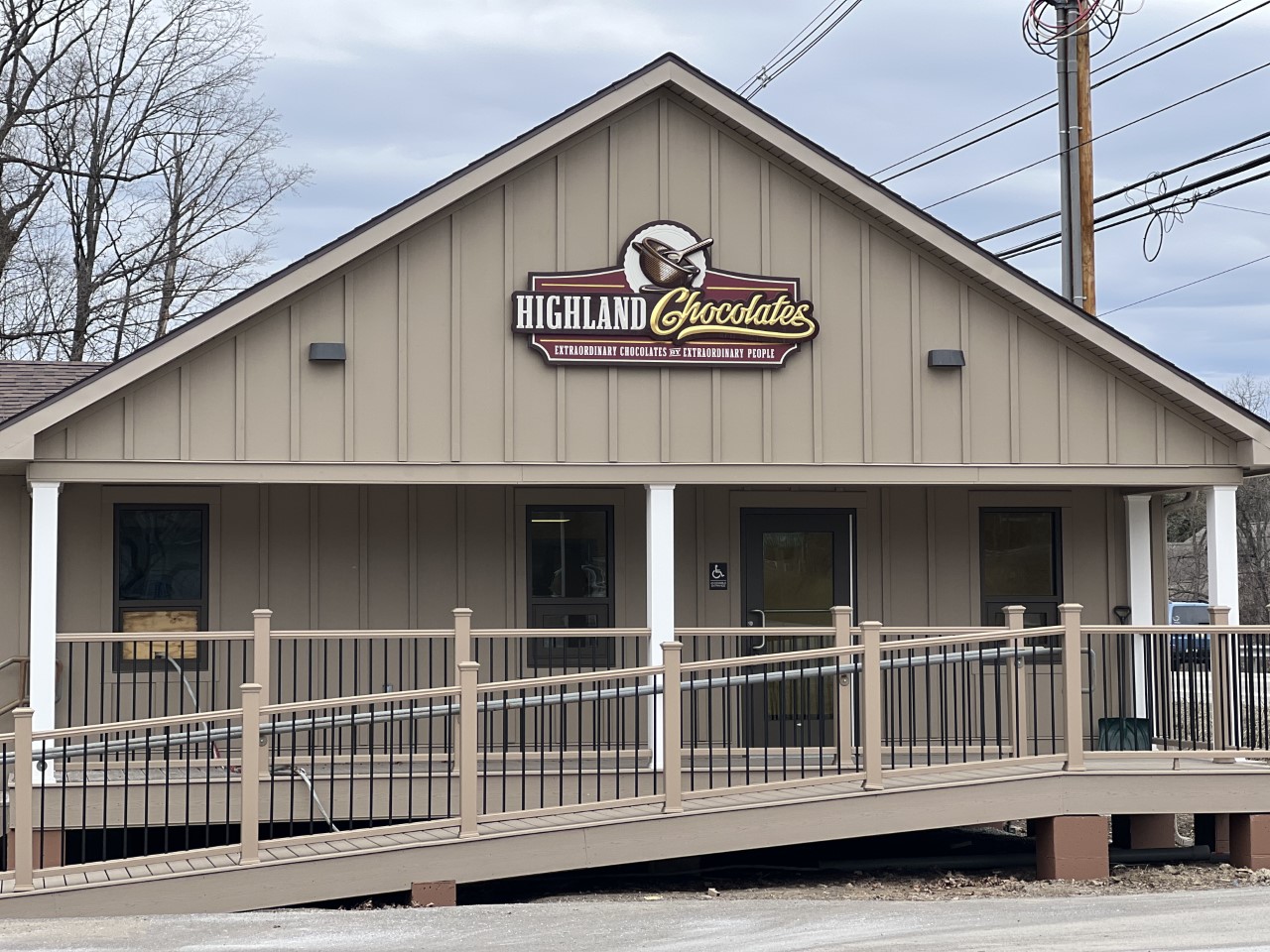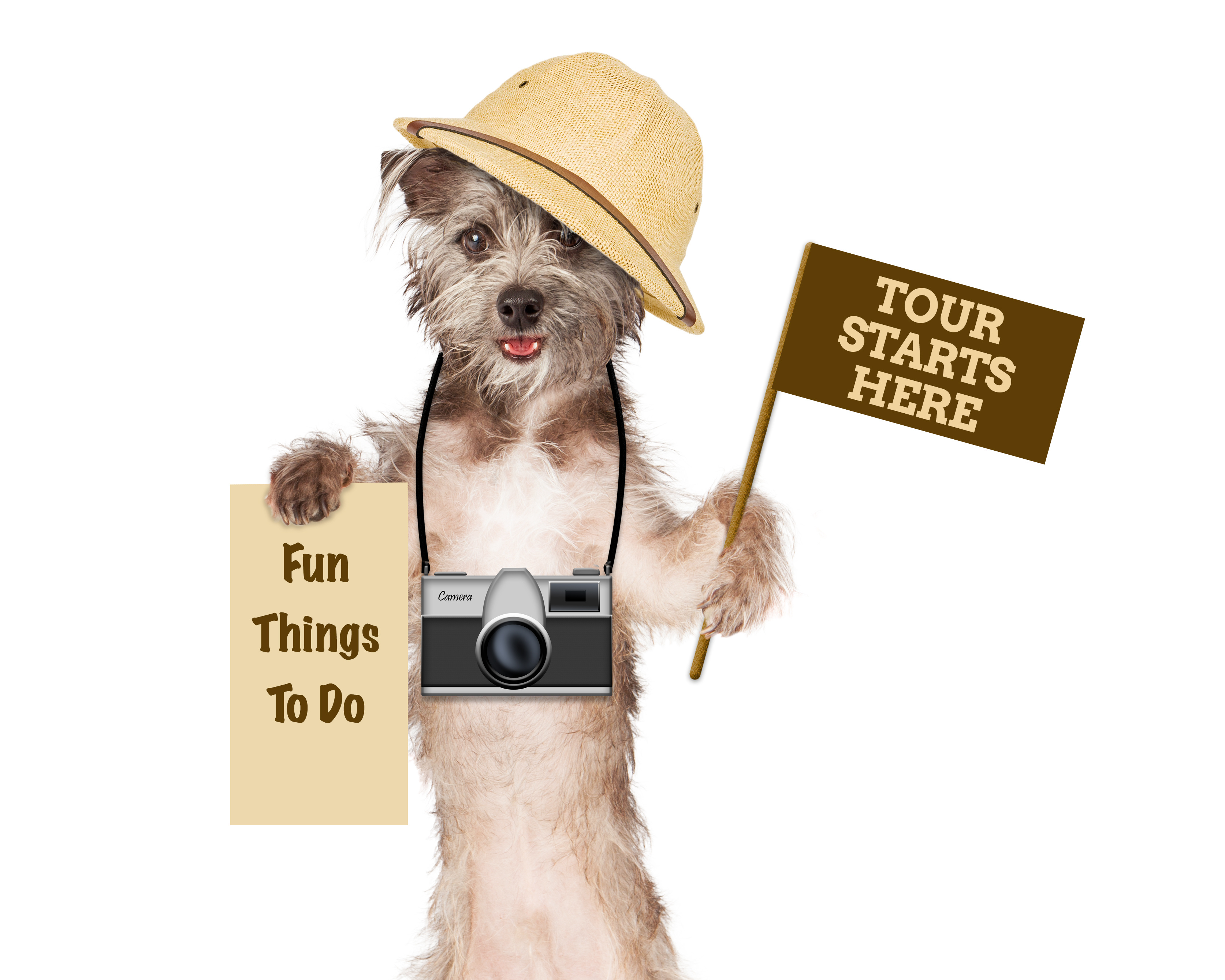 Exciting news - Our Factory Store is now open!
Partners In Progress and Highland Chocolates are thrilled to announce the highly anticipated reopening of the Highland Chocolate's Factory! After a period of temporary closure for a complete remodel, Highland Chocolates is ready to welcome chocolate lovers, enthusiasts, and families back to our delightful world of chocolate confections.
Right on Rt. 6 outside of famous Wellsboro, PA, Highland Chocolates has been a local and tourist favorite for some time now. Known for their artisanal chocolates, delectable truffles, and commitment to providing meaningful employment for Individuals with disabilities.
Highland Chocolates Factory tours offer a behind-the-scenes look at the chocolate-making process and an opportunity to witness the dedicated team at work.
Tours are free on Wednesdays and are offered on a first come, first served basis and are open to the public.

We do not take reservations for free tours.

We will accept a PAID reservation of groups of 15 or more on Wednesdays, but only if a bus group or other group (15 or more) is unable to come on any other day, as we prefer to offer Tours to the public on Wednesdays. Should there be a time when Wednesday Tours are booked by a bus group, this will be announced on our website and on social media. We apologize for any inconvenience.

Tours will be offered when there are 5 or more people seeking a tour, and twice per hour at 10 AM, 11 AM, 1 PM.
The last tour of the day is at 2 PM - NOT 2:30 PM. Please note, that there will be a 5-minute break between tours to allow the Production Manager to check on staff and production.

Those attending a tour will be asked to wear gloves and a hair net (beard nets where applicable, too.) These will be provided to those receiving a tour.

We are regulated by ODP. Should ODP require face masks, these will be provided to you. Masks are NOT required at this time.
Those wishing to book a large group tour, they are offered Monday- Saturday with paid reservation IN ADVANCE ONLY

Please email HighlandChocolates@partnerspip.com for tour information, pricing, and availability.

Please know that we may be increasing the days that tours are offered to the public in the Spring but we need to prepare for our busy season of Holidays including Christmas, Valentine's Day and an early Easter in 2024.

Thank you for understanding.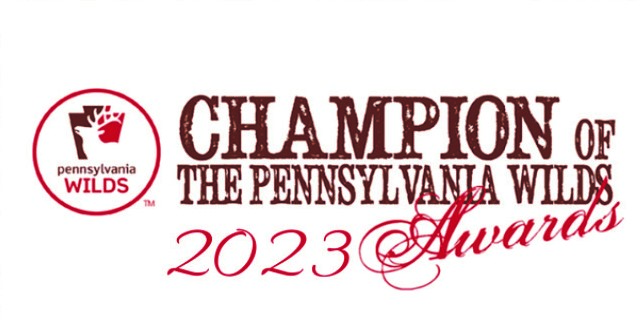 Champion of the Pennsylvania Wilds 2023 Business of the Year Award Winner: Highland Chocolates – Wellsboro, Tioga County
Photos above are from Award Ceremony at Punxsutawney, PA on July 27, 2023. Photos: Mickayla Poland/ PA Made for PA Wilds Center

Business of the Year Award honors a new or existing business that has taken bold steps to grow their business in a way that embodies what it means to marry conservation and economic development and to offer an authentic experience or product to visitors and residents. Highland Chocolates has been named the recipient of the 2023 PA Wilds Business of the Year Champion Award. Highland Chocolates is undergoing a remodeling project many years in the making. The new facility will allow for tours, as well as a window to view confection making when tours are not available. This will make Highland Chocolates a destination for tourists to our area. Highland Chocolates makes amazing chocolate, but it does so much more than that. In partnership with Partners In Progress, Highland Chocolates empowers individuals with disabilities to succeed! Highland Chocolates truly is "Extraordinary Chocolates by Extraordinary People."

"There were so many amazing nominations for Champion Awards this year, making it challenging for the review committee," said Beth Pellegrino, PA Wilds Center Board Member and Outreach Committee chair. "The theme of this year's dinner is 'Celebrating Decades of Conservation and Innovation,' and these winners do just that. The tenacity, drive and passion of our 2023 Champions is to be commended! They have each made something special possible – and we are eager to celebrate their achievements on July 27!"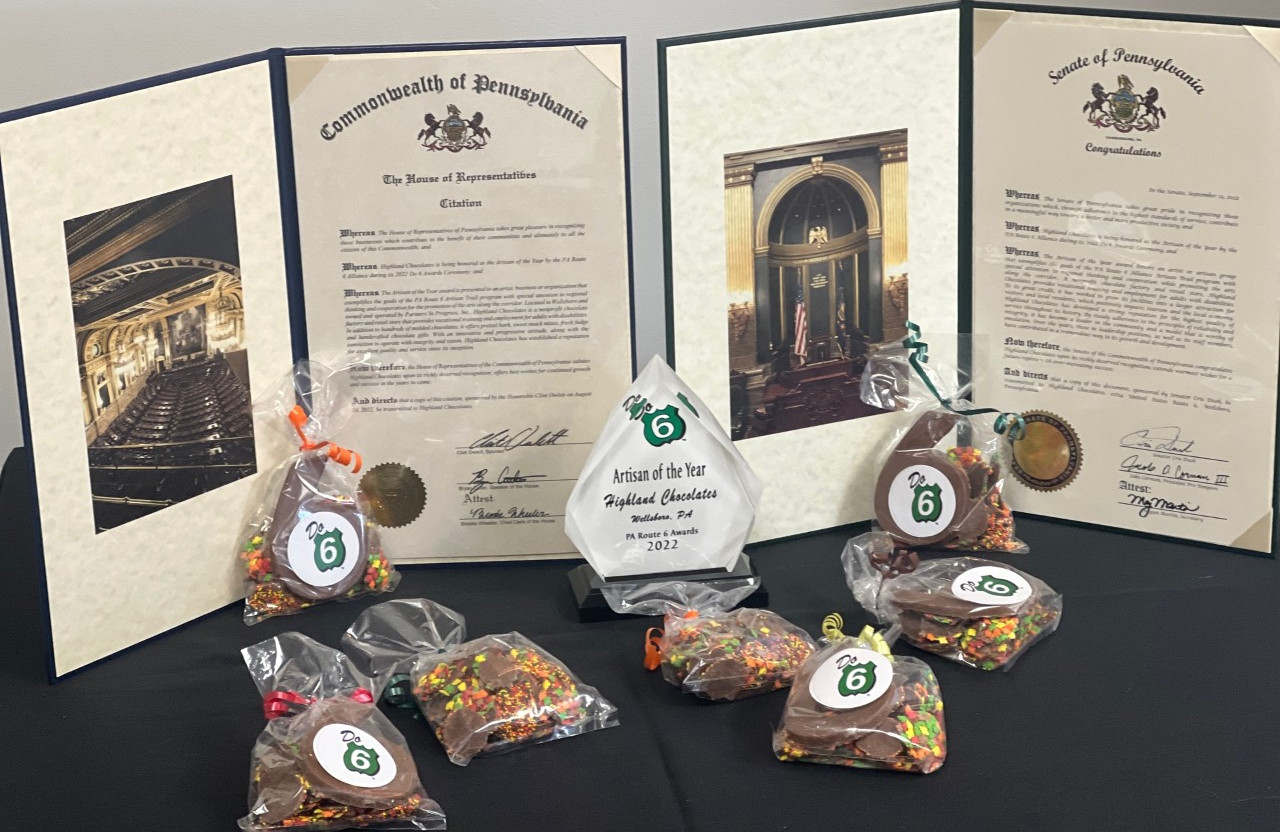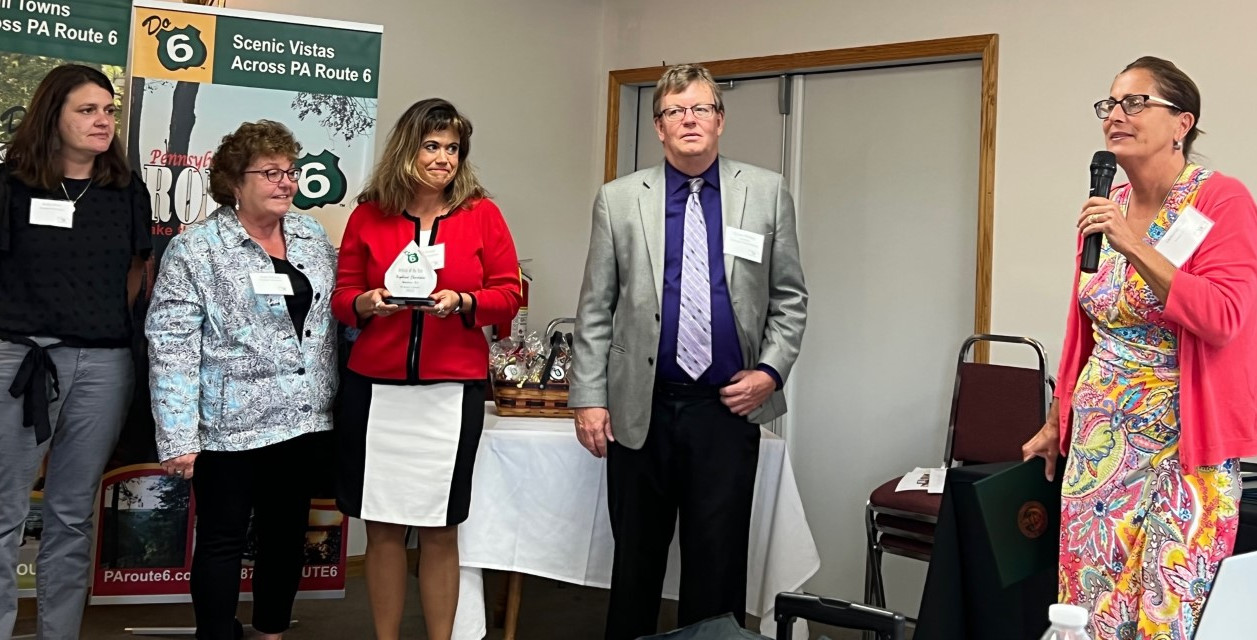 Highland Chocolates is named "2022 Artisan of the Year" by the Route 6 Alliance
Thank you to the Route 6 Alliance for naming Highland Chocolates as the 2022 Artisan of the Year recipient.
This award is presented to an artist or artisan group that exemplifies the PA Route 6 Artisan Trail program showing regional thinking while promoting the arts along the corridor.
We were so very honored to receive this award on behalf of the hard-working staff, amazing individuals, retail store staff, Partners In Progress, and the Partners In Progress Board of Directors.
Our talented staff and individuals created some specially crafted confections to celebrate! These were shared with all attendees!
"Extraordinary Chocolates by Extraordinary People!"
© 2023 Highland Chocolates. All Rights Reserved.
Designed By ElectronMonkey LLC