Shipping
-Highland Chocolates relies on UPS or the United States Post Office for safe delivery of our fine chocolates to your location.  
-UPS will be used for commercial/business addresses.
-UPS is unable to ship to P.O. or APO Boxes.
-Upon receipt of your order, processing time may be one day to two weeks depending on the time of year.
-In most cases we try to ship the next day if your order is placed by 12:00pm EST Monday -Wednesday.  
-See warm weather shipping and holiday deadlines for more details on shipping.
Shipping Policy/Warm weather Policy
Highland Chocolates is a very high quality chocolate, therefore we have to take measures to protect it from the heat during shipping so that it arrives fresh and unaffected by the temperature.
-During warm weather months or locations with temperatures above 65 or 70 degrees, we automatically use reusable gel packs and/or bubble bags.  
-In extreme cases we may require Styrofoam packaging*. We may also require expedited shipping during these times to ensure the safe arrival of your order** (if your normal UPS ground shipping time is longer than 1-2 days). Please check the weather forecast for your shipping destination. If your location is longer than 1-2 days in transit and the temperature is over 65 degrees please select 1 or 2 day shipping.**
We recommend having your order shipped to a location where someone will be able to receive the package upon delivery. We are not responsible for where UPS or USPS leaves your package. For example, if you are not home to receive your package UPS or USPS may leave it on a sunny patio.
Highland Chocolates ships Monday thru Thursday depending on the time in transit for your order. We do not ship on Fridays or weekend as UPS does not deliver on weekends and your order would be in uncontrolled environments during that time.
We currently cannot ship to Alaska, Hawaii, Puerto Rico, PO boxes, FPO or APO or any country outside of the United States.
Highland Chocolates reserves the right to alter shipments to certain locations during the hottest months of the year. We will attempt to contact the customer when this will happen. We will not be responsible for any delays in shipments due to adverse weather conditions beyond our control.
*please add $2.99 per shipped box for reusable gel pack(s) and/or bubble bags to ensure the safe arrival of your delicious chocolates. For Styrofoam packaging in extreme weather cases please add $6.99.
**please see the U.S. Ground Map for estimated number of days it takes to ship UPS ground from Highland Chocolates to your location. Additional fees to expedite your order to one to two day will be applied based on UPS rates.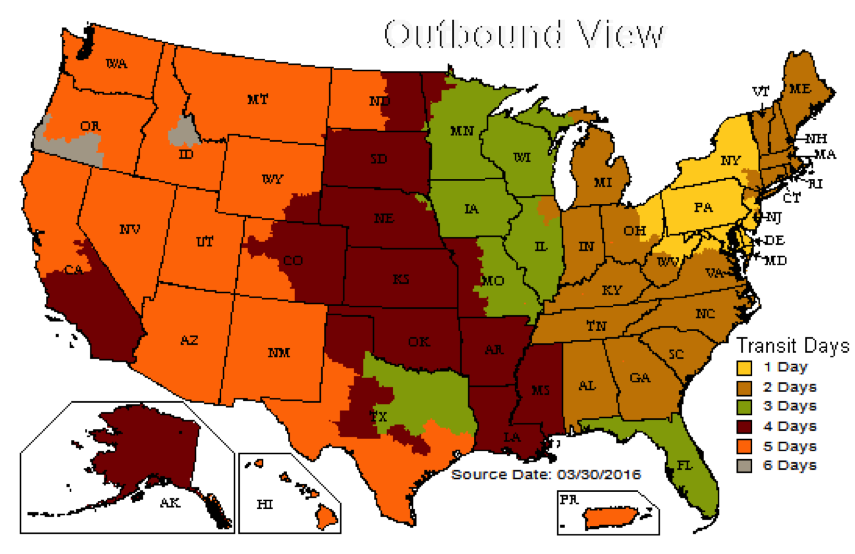 Holiday order deadlines
Highland Chocolates tries to accommodate every order to arrive when needed. However, for guaranteed delivery on or before each holiday please order accordingly. If you need to order outside of these recommended times please call 1-800-371-1082 to enquire about the current delivery schedule.
Thanksgiving- one to two weeks before the holiday
Christmas –two to three weeks before the holiday
Valentine's Day- one to two weeks before the holiday
Easter- two to three weeks before the holiday
(Please make sure you have provided the correct shipping address for your order, including suite information or apartment numbers when necessary. Highland Chocolates is not responsible for product shipped to an invalid or incorrect address. Highland Chocolates is not responsible for any orders placed that do not follow our suggested shipping policy. Please call 1-800-371-1082 for any additional questions)
Returns:
Highland Chocolates takes measures to protect our products during shipping, however, if you have received a damaged product please contact Highland Chocolates by calling 1-800-371-1082. Please do not return any products without first contacting us regarding the return process.
Highland Chocolates has been making delicious chocolates treats in our production facility since 1994. We pride ourselves in using high quality ingredients. If, for any reason, you are not satisfied with your online order, please call 1-800-371-1082 to discuss how we can resolve the concern.
Highland Chocolates is not responsible for shipping delays or damaged product due to incorrect shipping information given at the time of checkout. Please be sure to include apartment numbers or building numbers if applicable. We are also not responsible for melted, damaged or missing product if delivered to destination that no one is available to receive it.